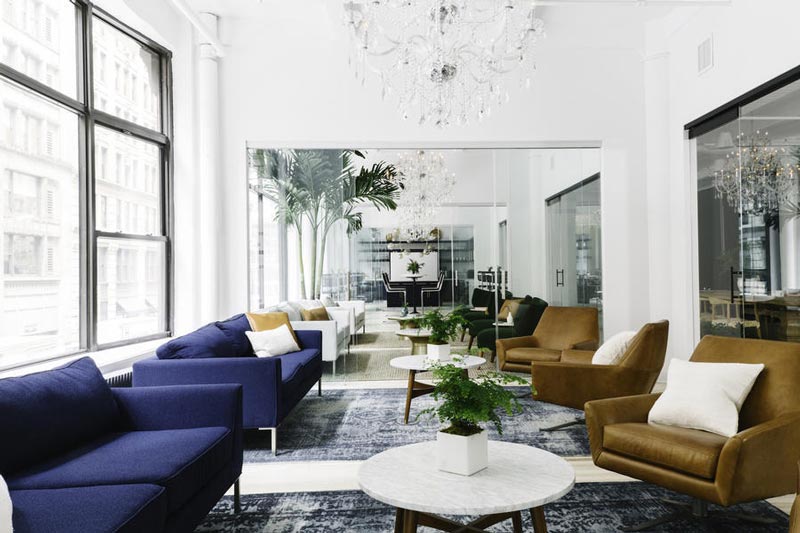 (Photo of Homepolish offices courtesy of Business of Home)
If you follow any business or design news, you've probably read about Homepolish, the digital interior design startup that promised to match clients with interior designers at an affordable rate.
Homepolish raised over $20 million in capital shortly after launching in 2012, with investors excited about its potential to conveniently coordinate interior design services for clients who might not have otherwise considered it.
The concept seemed like a win-win for both new designers, eager to secure their first clients, and average office and home-dwellers, unsure of how to navigate finding professional interior designers.
However, the company began spiralling downward last summer, when they vacated their posh office space in the Financial District and put over half of their employees on unpaid leave. CEO Noa Santos scrambled to secure more funding while the remainder of a 2017 bank loan dwindled.
Now, Homepolish cannot pay their designers for work completed, leaving many clients abandoned mid-project.
On the Tinder for interiors, both designers and clients were catfished. Here are our biggest takeaways from Homepolish's fall:
1. Portfolio over profile
Instagram is not real life.
We hear this phrase a lot, but nowhere is it more exemplified than Homepolish's social media. Their Instagram boasts almost two million followers and is full of modern designs that look like they came straight from a magazine: some of their photos, in fact, did!.
That's why it's crucial that those searching for the perfect interior designer ask to see a website and previous work instead of an Instagram page. While social media can be a helpful tool to communicate with designers and find inspiration, it never tells the full story.
Like Homepolish, many interior designers post photos from other profiles and publications, often without giving proper citation. This can be misleading to potential clients who believe that what they see on social media is what they can expect from the interior designer.
The takeaway? Do your homework by checking portfolios and reviews, and don't let a fake Instagram sell you a real contract.
2. Align your aesthetic
Homepolish was founded by business people, not interior designers, whose focus never shifted from their bottom line.
While "quantity over quality" may be the law in finance, it falls flat in the highly personal practice of interior design.
Many of Homepolish's young designers were inexperienced, yet no one from the company supported them or checked their work. They didn't know how to oversee contractors for quality work or distinguish quality furniture, thus wasting a lot of time and expensive materials.
When faced with Homepolish's collapse, many of them were challenged with either staying on their projects unpaid or abandoning them uncompleted.
Today's clients should ensure that their interior designer has a diverse portfolio that showcases multiple aesthetics and aligns with their goals for the space, whether big or small.
This is where mood boards (often created through Pinterest) enter as a great visual communication tool for clients and designers. A good interior designer will know how to "read" a client's mood board and translate it into a tangible design.
3. Opt for exclusivity
Finally, Homepolish's quick growth made it impossible for the team to offer clients the personal attention and customer service they paid for.
As with many large firms, Homepolish profited from undisclosed sales commissions and assigned sub-par contractors and suppliers to many projects.
That's why those on the market for interior design services should consider choosing an independent interior designer who can offer the same full-service interior design work as large firms, but with the flexibility, availability, and personal attention of a boutique company.
---
Are you looking to remodel your home, office or restaurant? Let's see if we are a good fit! Check out my portfolio and schedule a consultation.
Posted in Industry News, Interior Design on Nov 13, 2019