In a small apartment, like most in New York City tend to be, having people over rarely means sitting around a dining-room table — and that can be okay!
Most times, it's better to gather around a kitchen island or mingle throughout the entire space.
My clients always tell me they love to entertain. However, managing that effectively in a tiny apartment space can be challenging.
Here's how I design my clients' homes with that in mind, plus a few tips for working with what you have, to throw fun, easygoing, parties.
Embrace an open floor plan
Typically, in the city, we see spaces where the living, kitchen, and dining areas are all in one space.
That's a big advantage for entertaining.
When you're hosting and you need to be in the kitchen preparing food or getting people drinks, you can still listen to the music and chat with your guests. It keeps the flow of the party going.
This apartment I renovated was originally divided into lots of small rooms, but the client could never have had her big extended family over in that kind of space.
I had my contractor knock down as many walls as possible, giving her an apartment where she could host her family and other guests.
Get the lighting right
Ideally, you always want to have a lot of natural light. The first thing people do when they walk into a space is look toward the windows.
But if you're not blessed with a double-exposure layout, don't worry, you can still get the mood-altering effects of natural light.
If you only have windows on one side of your apartment, I suggest removing walls to open up your layout, allowing more light to flow through the apartment.
You can also buy lightbulbs in different temperatures — they range from yellow to white — and wattages.
In my own apartment, I use bright, white light in my ceiling and floor lamps. I'll have those on during the day, when I want to be awake and sharp. Then, at night, I'll turn on the lamps on my side table, which have a softer, amber light to help me relax.
Simply by changing your lightbulbs, you can control the lighting and mood of your party.
Lose the dining table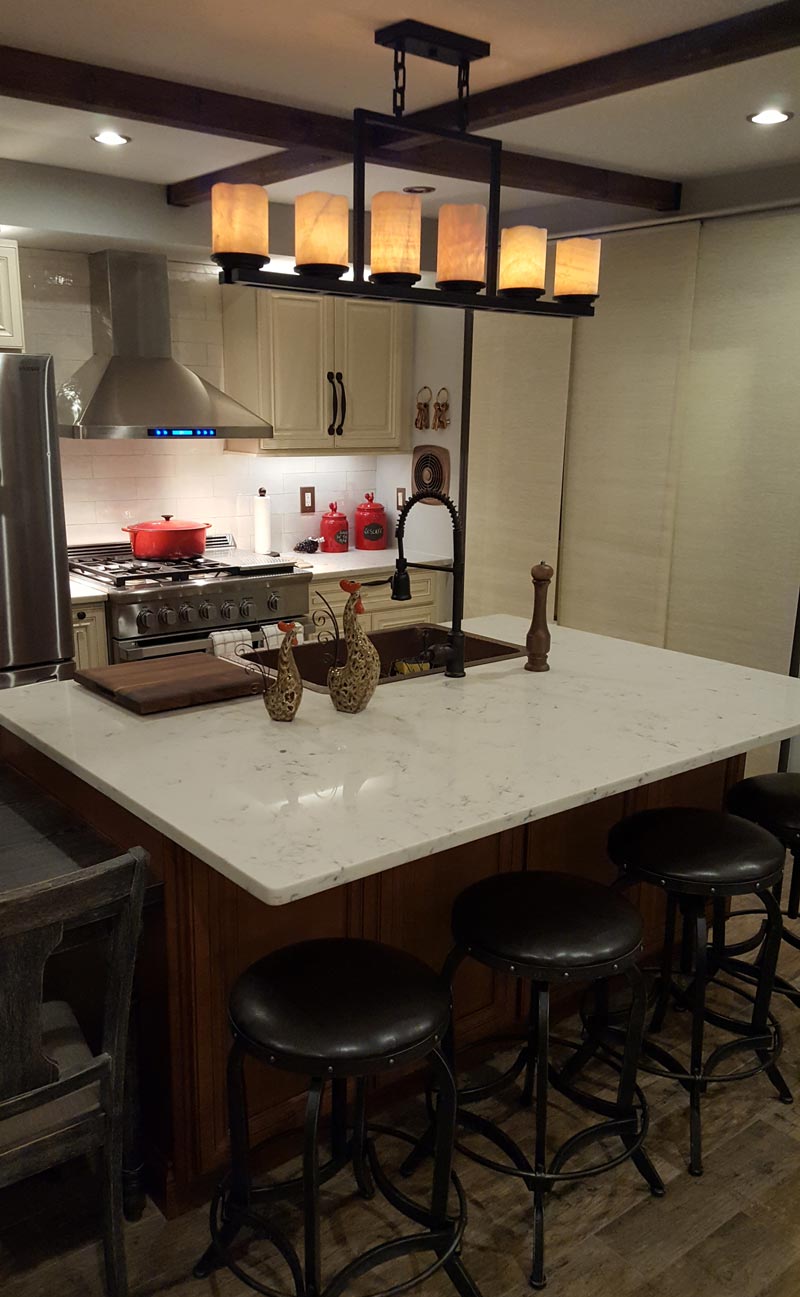 Most New York apartments don't have space for a full dining table, but you often don't need one.
In fact, when I design a space from scratch and there's not a lot of square footage, I always encourage the client to forgo a dining table in favor of a big kitchen island.
People rarely use dining rooms anymore — they don't make sense with our modern, always-on-the-go and multi-tasking lifestyles.
An island with some bar stools is still comfortable and actually more interactive, for you and your guests.
Spread the food
Think of your apartment in sections, and create little areas for food and drinks throughout.
For example, put some appetizers on your coffee table and some on a side or console table.
Spread the food out so everyone can mingle without crowding around one table of food.
That way, everyone will still be able to move around comfortably, even in a small space. It creates a nice flow.
Skip the sectional
Everyone wants a sectional.
In a small space, I always recommend against it, not only because it's too bulky, but also because it's not ideal for entertaining.
Get two smaller pieces of furniture instead. That could be a three-seat sofa and an armchair, two small sofas facing one another, or another configuration.
When you're having people over, it's more interactive to have multiple pieces of furniture facing each other.
If you often have guests over, you could also add a pouf or an ottoman that doesn't take too much space, and keep some folding chairs in your closet for emergencies.
Those are just a few ways to squeeze out the most entertaining capacity out of a small apartment space. All it takes is a little creativity and some outside-the-box thinking.
Happy entertaining!
---
Are you looking to remodel your home, office or restaurant? Let's see if we are a good fit! Check out my portfolio and schedule a consultation.
Posted in Interior Design, Lifestyle on Jul 29, 2019