Oniro Taverna, designed by Anastasios Interiors
You just signed a lease on a commercial space for your restaurant. Great! But you need to open for business quickly because time is money. Your money - burning away everyday your doors stay closed for business.
However, a lot of work still needs to be done to get the space ready for your patrons. What to do?
Renovating a restaurant comes with unique challenges: you need to get it done quickly, without going in the red. You need a high-functioning kitchen and, of course, a beautiful dining space that keeps people coming back.
In my experience designing restaurants in New York and beyond, the key is to work with what's already there, as opposed to working against it.
I always let the existing space inspire my design, rather than letting it hold me back. Here are some examples:
1. Treat columns like design elements
Greca restaurant, designed by Anastasios Interiors
The first time I walk into a space, I look at the structural components like columns and beams.
They can't be moved or removed, so I make it a point to consider them right away and come up with a design concept that will complement them.
Greca, that I worked on, for example, has massive concrete columns, so I designed the whole space around them.
The column is against the bar and acts as a partition between that area and the dining area, so you'd never know that it wasn't part of the design plan all along.
2. Consider how the space was used before
Greca kitchen, designed by Anastasios Interiors
If it was a restaurant previously, it's likely already equipped with appliances, proper plumbing, and an exhaust system for keeping smoke out of the space.
That will make your renovation faster and less expensive. If it wasn't a restaurant, be prepared to spend a lot more time and money on your renovation.
Greca, for example, is in a space that used to be a gym, so we had to build a kitchen from scratch.
There were so many pipes on the ceiling that we couldn't fit a hood in the kitchen. We had to buy high-end, self-contained kitchen equipment with its own exhaust fans and draining.
It tripled our kitchen equipment budget but we made savings elsewhere.
3. Don't hide the pipes
Greca restaurant, designed by Anastasios Interiors
A lot of commercial spaces come with exposed pipes running along the ceiling. You can hide them by adding a ceiling below them, but it's extremely expensive.
Plus, you'll lower the height of the ceiling and, in my experience, it always ends up looking a little imperfect.
You're better off spending money elsewhere. Instead, treat them like part of the design.
Greca is an all-day café, so to keep it bright and airy, we painted the pipes white. Meanwhile, The Greek is more of a night spot, so we painted the pipes black for a more cozy, intimate vibe.
Either way, the pipes can become part of the design and add a cool, element.
4. Leave the plumbing alone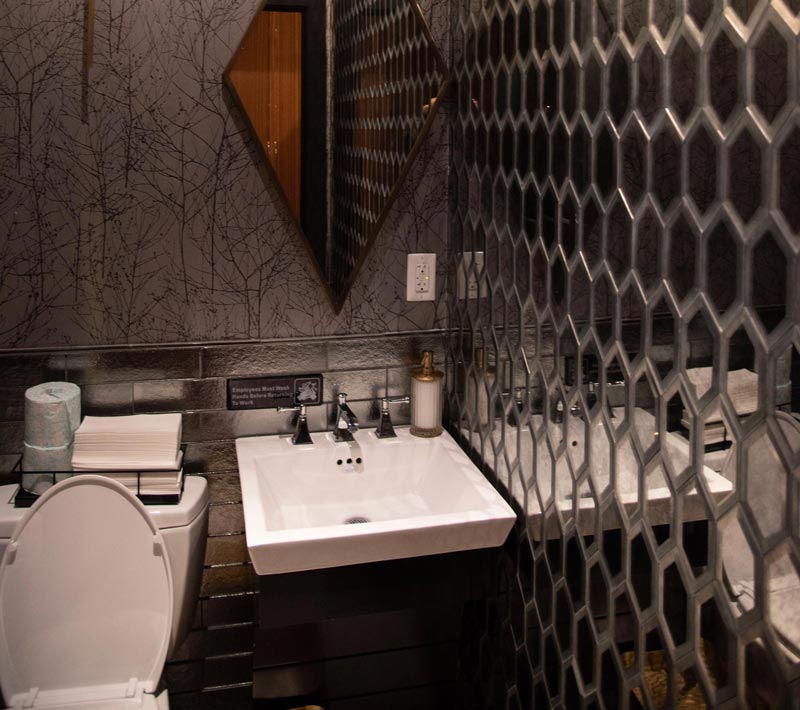 Prime restaurant designed by Anastasios Interiors
I do everything I can to avoid moving existing bathrooms. Relocating pipes costs so much money, so it's in the client's best interest to keep the bathrooms where they are if possible.
Play with the layout of the restaurant, thinking about where the bar, dining area, and so on will go.
However, if it just won't work around the bathroom, I recommend biting the bullet and moving it. At the end of the day, you want the flow of your restaurant to be right.
Lighting, on the other hand, is easy to change with the help of an electrician, so that's a great way to customize a space.
5. Leave those concrete floors as-is
Greca restaurant, designed by Anastasios Interiors
A lot of commercial spaces come with concrete floors and you can't just cover them with hardwood flooring like you would at home — it takes too long and if it's in a high-traffic commercial establishment, they will get damaged quickly or require too much ongoing maintenance.
Instead, I make them part of the design by complementing them with other natural materials, and they'll look like part of the design. All you need to do is polish it and treat it every now and then to make it presentable.
What are your challenges?
Those were just 5 tips from some of the restaurant renovation projects I've worked on recently, what are your challenges?
The challenges you might be facing – structural and otherwise - with your restaurant renovation project might be different from these examples here, but the principle remains the same.
Start by working with what you have, before you consider extensive, often expensive, major renovations. Also find an interior designer that understands this approach and can bring it to life for you, on time and on budget.
Good luck with your project and I look forward to attending your restaurant's grand opening!
---
Are you looking to remodel your home, office or restaurant? Let's see if we are a good fit! Check out my portfolio and schedule a consultation.
Posted in Interior Design, Projects on Aug 20, 2019