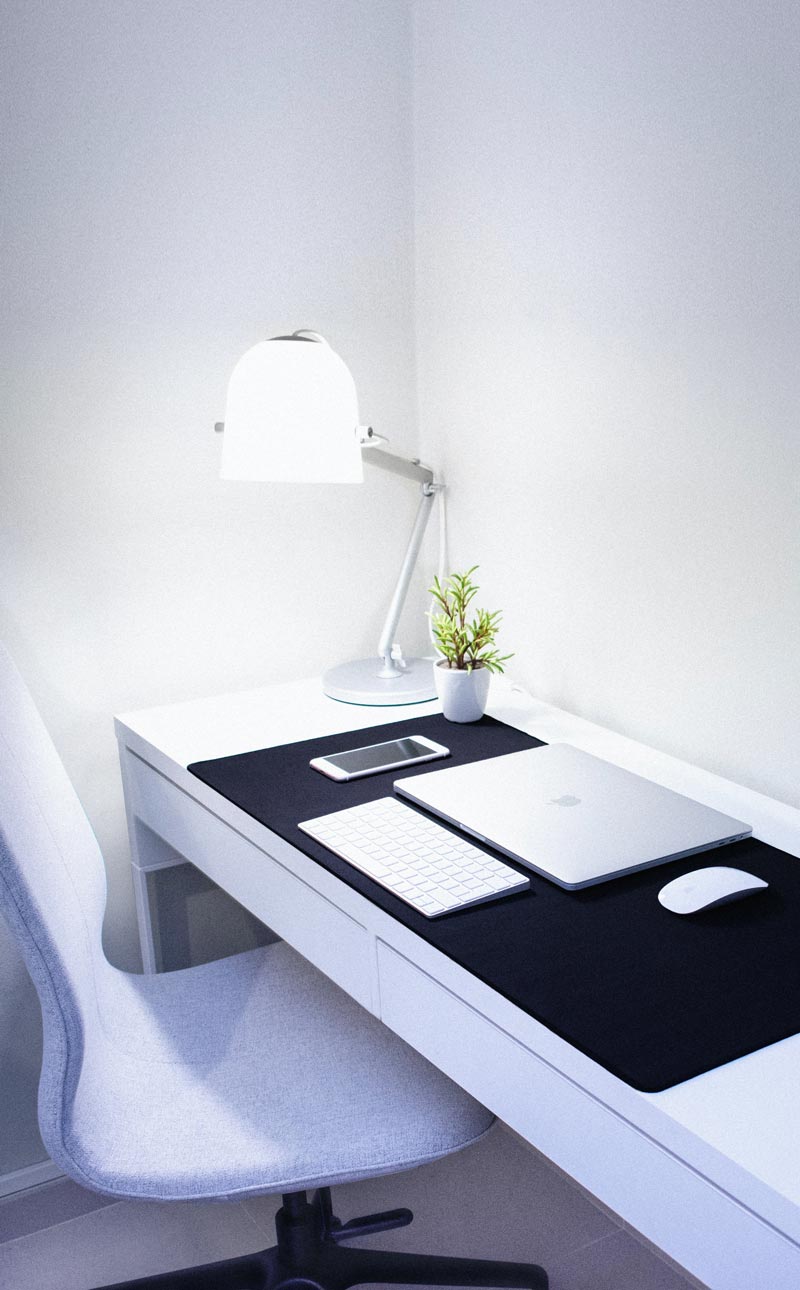 Simple home office space interior design
The coronavirus pandemic has swept the nation and transformed many aspects of our lives.
From restaurants closing to schools switching to online learning, "social distancing" has become the name of the game as we all try to stay healthy.
The biggest change to daily life? Working remotely.
What was once an option (if you were lucky!) is now a requirement for many people living under new "shelter in place" laws.
You're not alone in thinking this transition is difficult - and abrupt. And while we can't do anything about those 8am Zoom meetings, we can help you assemble the perfect space to take them.
Read below for our foolproof tips on creating a chic, functional workspace in your home.
1. Find the Perfect Location
Location, location, location!
Pick a space in your home that's relaxing and comfortable, yet conducive to getting things done.
Cross off your couch and reclining chair (sorry, La-Z-Boy), and instead opt to get as close to a proper desk setup as possible.
Ideally, this is a completely separate area designated for work. However, we know that's not possible for everyone - we live in NYC, after all!
If you do use your dining room table or a counter as your workspace, clear the area each morning to aid in the "mental switch" from life to work.
Be mindful of distractions, as well. TV or snack shelf in your line of sight? Turn your chair around!
2. Establish a Routine
Rut or Routine?
Being cooped up at home can take a toll on many professionals' mental health, and it's easy to see why.
The lack of structure can be disorienting when you're not physically switching between your home and workspace.
To prevent getting into a rut (or help get out of one), establish a morning routine similar to the one you'd have going into the office.
Think: shower, morning coffee, light breakfast, and dressing nicely.
You don't have to wear a full-on suit, unless that's your jam, but skip the sweatpants, please!
Sit down with some water and a snack to prevent distracting trips to the kitchen, and start your day with a tech check.
Are your laptop and cell phone charged? Is there paper in the printer? Do you have all your tools and materials on-hand and well-organized? Do you have a visual to-do list, either on paper or in an app, with clear goals that you'll (satisfyingly) cross off?
Investing these five minutes in the morning can prevent frustrating hiccups throughout the workday.
3. Set up For Success
The key question for work-from-home success is "what can help me slip into a productive headspace?"
Don't kid yourself - no one can work efficiently with TV or video games in the background!
A relaxing playlist provides all the background noise you need.
Thoughtfully consider your lighting, chair, and tidiness.
Is your desk light reflecting off of your screen? Does the chair's height force you to hunch over your computer? Do you have a chaos of paper and pens, or is everything neatly piled in file cabinets and shelves?
Science says cool lighting makes you focused, while warm lighting is relaxing. To find the perfect balance, we recommend warm floor lights and a desk light with a blue bulb to keep you alert.
Ideally, your space will incorporate some natural light.
If a window is too distracting, add some transparent drapes from our new collection!
4. Explore some Feng Shui Favourites
Meetings over video are becoming the new norm (hello, Zoom!), and what's behind you acts as a subtle advertisement for your personal brand.
Be intentional with your background, especially if you're in a creative field.
We love orange - the color of creativity, organization, focus, and energy - for the home workspace. An orange accent wall wows! But if you're intimidated, start with splashes of color in orange throw pillows and lampshades.
Plants and flowers are also very underestimated mood-boosters, especially when social distancing calls for less time outdoors.
A few succulents add color to your workspace and keep you company - they are alive, after all! And on that note, be sure to dump any dead plants. Good vibes only!
---
Are you looking to remodel your home, office or restaurant? Let's see if we are a good fit! Check out my portfolio and schedule a consultation.
Posted in Decor, Interior Design, Lifestyle on Apr 06, 2020